The most critical variables in determining a company's sustainability, ethics, and social effect are Environmental Social Governance (ESG). Although ESG variables aren't always monetary, they play a crucial role on a company's long-term risks and return on investments. Businesses that strongly consider and work on environmental, socialand corporate governance are more likely to thrive and flourish.
As climate-change and other potentially world-changing ecological challenges become increasingly well-documented, a company's commitment to sustainability becomes even more critical. In the context of ESG, environmental considerations refer to an organization's influence on waste, pollution, resource depletion, greenhouse gas emissions, climate change, and deforestation.
inMorphis + ServiceNow ESG – A key to unlock sustainability
A business is more than its products, services, or logo.It's a group of individuals working together to achieve a similar purpose. As a result, investors may assess a company's overall quality and risk by looking at how it treats its people and if it adheres to established health, safety, and recruiting requirements. Employee interactions, local communities, health, safety, conflict, and diversity are all included in the social aspect of ESG.
Taking responsibility for the impact organizations have on the environment and societyis the foundation of ESG. Examining how well an organization conducts itself is an important aspect of governance. Easily integrate with ITOM, ITSM, etc. Executive compensation, contributions, political lobbying, tax strategy, board diversity, structure, corruption, and bribery are all topics covered under governance. Proper governance aids in the alignment and redressal of concerns among stakeholders at various levels, as well as the continuation of growth and long-term plan.
Key features to drive positive change
Dashboard for executives: Check the status of ESG indicators, such as material themes, objectives, and disclosures at one single platform

Data collection: inMorphis helps youeasily aggregate and assess quantitative and qualitative data from a variety of sources with ServiceNow ESG

Checks on the status: Using a single source of truth, you can more readily track your progress toward ESG goals and targets

Automated reporting: Keep track of evolving accountability requirements and guidelines with built-in reporting

Low-code development platform to easily innovate. Also,it provides integrated operations for ESG-wide planning, management, governance, and reporting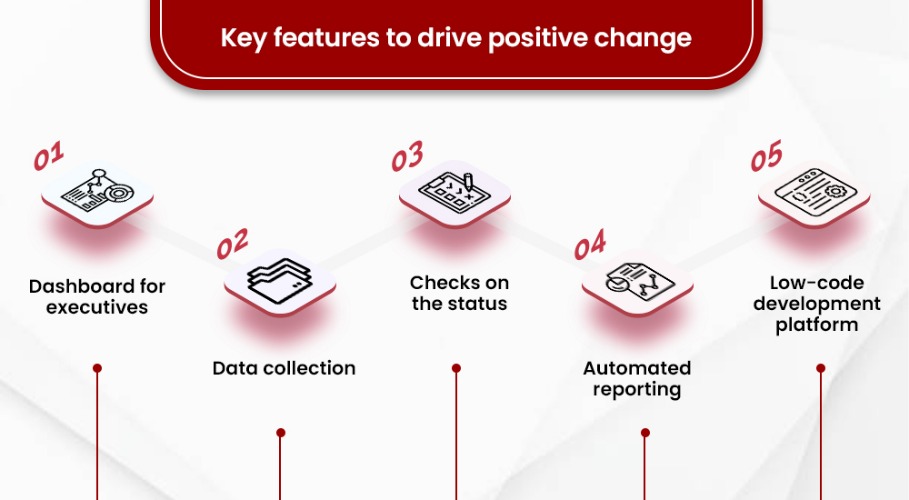 Establish incredible business sustainability
Get Your ESG Strategy in Motion: To turn goals into action, set up an ESG control tower. To boost speed, efficiency, and scalability, you can connect people, systems, and data, and operationalize processes.
Increase Reputation: Maintain data integrity while allowing for ethical and transparent business operations. Data gathering, process and project monitoring, and governance may all be made easier and more automated.
ValueGrowth: To ensure long-term growth, encourage ESG innovation and involvement. Support changing requirements with low code procedures and a unified partner ecosystem on a single platform.
Reporting and Data-Gathering: Simple data gathering, on-demand progress tracking, and automated reporting can help you elevate your environmental, social, and governance (ESG) program.
Integrations: You can integrate ServiceNow ESG with multiple products like ServiceNow Vendor Risk Management, Hardware Asset Management, IT Operations Management, Risk Management, Business Continuity Management and others.This directly improve ESG impact and business outcomes.
inMorphis leading the change with ServiceNow ESG
Specialized and certified workforce

Makes Data Collection Process Streamlined: To improve disclosure reliability and audit preparedness, automatically aggregate and evaluate data

ESG activities are integrated into corporate and financial planning processes, resulting in more ethical, transparent, and secure company practices

Performance Monitoring: Ensure that progress on ESG objectives is tracked on a regular basis across the organisation

Reporting and Dashboards: Executives can check the status of ESG indicators, can get on-demand progress tracking, and automated reporting
ESG mitigating risks and driving business growth
Can view current and complete ESG story at once: Create a single source of truth for all subjects, goals, KPIs, and disclosures related to ESG and sustainability.

Can provide quick on-demand reports: Validate and visualise ESG data more easily for faster, more accurate, and frequent reporting.

By activating ServiceNow for ESG across enterprise, functions and processes become consistent, efficient, ethical and transparent towards secure business operations. Also, it becomes easier to achieve scalability.

Provides support for broadening the scope and enacting new regulations.