Business Continuity Management (BCM) is an integrated management approach with the goal of early detection and mitigation of significant risks to a company. This means that to maintain a company's survival, the right preventive steps must be adopted, increasing the reliability of business processes and enabling a quick and concentrated response in a crisis.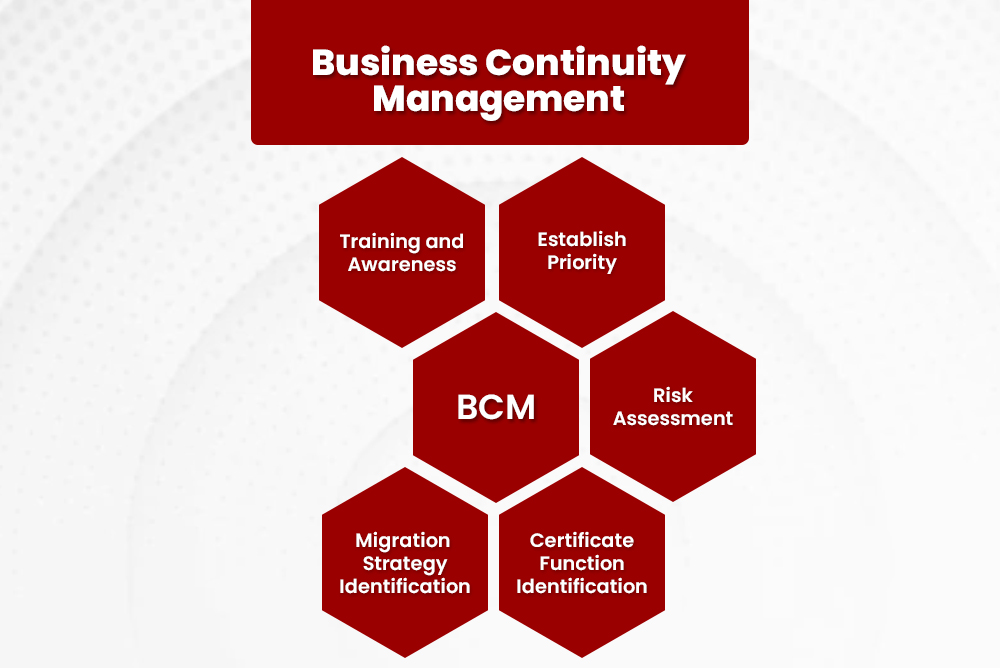 Three

K

ey

C

omponents of a

B

usiness

C

ontinuity

P

lan
Three key elements of a business continuity plan are resilience, recovery, and contingency.
Resilience -

An organisation can increase its resilience by developing vital infrastructures and functions with numerous disaster possibilities in mind. This can be done by including staffing rotations and maintaining a capacity surplus. Assuring resilience against various situations can also assist firms in continuing to provide essential services on and off-site.

 

 

Rapid recovery –

It is essential after a disaster to restore

business

activities. Determining which components need to be recovered first in order of significance can be done with the aid of recovery time objectives for specific systems, networks, or applications. Additional recovery strategies include resource inventories, contracts with outside parties to take over business activities,

and using

converted spaces for mission-critical functions.

 

A contingency plan -

A contingency plan with procedures in place for various external events might include a chain of command that divides tasks within the organisation. These responsibilities include getting replacement equipment, renting out temporary offices, figuring out how much damage there is, and working with other vendors.
Read more about The Essentials of IRM - Integrated Risk Management here.
Important

C

haracteristics of an

E

ffective

B

usiness

C

ontinuity

P

lan (BCP)
The components of business continuity are:
Strategy:

Objects connected to the business's strategy are used for day-to-day tasks and maintaining continuous operations.

 

Organi

s

ation:

Elements that pertain to an org

ani

s

ation

's workforce's structure, skills, communications, and responsibilities. 

 

Applications and data: 

Items associated with the software needed to enable business operations and the high availability implementation strategy used to implement that software. 

 

Processes:

  The critical business procedures required to run the business and the IT processes utilised to maintain smooth operations are both considered to be processes. 

 

Technology:

Technology is required to provide continuous operations and data and application backups. It is required for objects related to networks, systems, and industry.

Facilities:

Facilities help provide a backup site if the original site is damaged during a disaster.
Get insights into An Overview of Integrated Risk Management and its Benefits
Benefits of

B

usiness

C

ontinuity

M

anagement
The main reason to implement a BCMS is to ensure that business processes remain operational during a disruption. However, other reasons to adopt business continuity management are as follows- 
1) Protect the organisation's reputation - The public is impressed if one responds quickly and efficiently following a disruptive incident. This will help mitigate any negative sentiments accompanying the loss of productivity. 
2) Boost employees' morale - If the organisation is well-managed, it will show employees that management has considered their requirements, providing a safety net. 
3) Building relationships with third parties and subsidiaries - An effective BCMS demonstrates that the organisation is being run well from top to bottom. It also shows that the company is a reliable partner that has considered its responsibilities to customers, employees and partners.
4) Helps meet regulatory requirements - A growing body of legislation requires businesses in essential areas to implement effective business continuity management.
Read More: Skills Required for ServiceNow Developer
How to Create a Business Continuity Plan
There are several steps many companies must follow to develop a BCP. They include: 
Business Impact Analysis:

The organisation will use this analysis to pinpoint time-sensitive resources and functions.

Recovery:

The business must choose and implement its recovery strategies in this part.

Org

ani

s

ation

:

It is necessary to form a continuity team. This group will create a strategy to manage the disruption.

Training:

The continuity team needs to go through testing and training. Team members should also finish exercises that review the plan and strategies.
Learn more about Build Improved Defense Systems With Risk management by ServiceNow GRC
Importance of Business Continuity Plan (BCP)
Every business should have a Business Continuity Plan (BCP), as businesses are subject to a broad range of mishaps, from minor to fatal. A business continuity plan is usually designed to help it survive in the face of dangers and disruptions. 
These faces of danger in the organisation might cause more expenses and a loss of revenue, which would eventually reduce profitability. Also, the organisation can only partially depend upon insurance as they cover only some expenses. You might also see some customers switching to competitors, which can negatively affect the business. 
 A business continuity plan encourages: 
Interaction between staff and customers 

 

The operation of the workflow is crucial to corporate activities 

 

Response from customer service, particularly if you are a service provider 

 

Wherever you and your team work, business security keeps your data and information secure

 

The information and document flow
E

xplanations for

W

hy a BCP is

C

rucial for

O

rganisations
1. Disaster Recovery – It is a key component of the business continuity plan for restoring normal business operations. Disasters are unforeseen events that can occur in most peculiar circumstances. Businesses with a strong business continuity plan are renowned for successfully enduring crises. Therefore, disaster recovery must be included for the business to function properly in an emergency.   
2. Organisational Assurance - Companies must assure the customers, stakeholders, third-party vendors, and business partners during the crisis that everything is under control. Businesses should comfort their employees while communicating with them timely and maintaining transparency with the actual situation and the possible steps that need to be taken to control the crisis. The employees will be able to cope with stress if clear communication is maintained, and confusion will be kept to a minimum.
3. Quality Control - In any difficult circumstance, the company must maintain the quality of its products and services to keep its customers loyal to its brands. A business continuity strategy enables organisations to maintain quality while substituting technological and other infrastructure for the resources that were compromised during the crisis. This continuously upholds product quality, putting customers' needs first and preserving the business's reputation. 
4. Risk Management - Risk management is one of the main reasons companies invest in business continuity plans. Due to the continuous pandemic, most businesses are making losses as the source of revenue and business operations get interrupted due to the lockdown. Business continuity plans can help companies to mitigate the risks that can occur during pandemics. The damage control initiatives and the risk management strategies simultaneously help organisations cope with the situation.


Conclusion
In conclusion, Business Continuity Management (BCM) is critical to ensure businesses remain operational during disruptions. Three essential components of a Business Continuity Plan (BCP) are resilience, recovery, and contingency. Developing an effective BCP involves conducting a business impact analysis, selecting recovery strategies, and organizing a continuity team.


An effective BCP can help organizations protect their reputation, boost employee morale, build relationships with third parties and subsidiaries, and meet regulatory requirements. It also helps them maintain the quality and continuity of their products and services during crises. Therefore, every organization must implement an effective BCM and BCP to ensure business continuity during any disruption.


If you are looking to develop a Business Continuity Plan for your organization, we can help. Learn more about the other benefits of our GRC services.